Welcome To The Poconos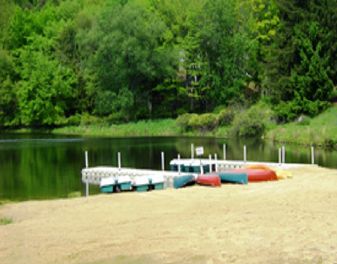 Saw Creek Estates is considered one of the largest, private residential subdivisions in the Pocono Mountain region.

It is a beautiful gated community surrounded by a rugged mountain environment.

It has a host of four season activities, second to none!

At their Top of the World Complex you will find a heated indoor pool, as well as an outdoor pool that connects with a delightful toddler-friendly wading section.

Grab a snack or two at the Tiki Bar, or join your neighbors for a community-wide holiday barbecue.

Still need more to do you can choose between two regulation-size indoor tennis courts, and one indoor racquetball court. In addition to that their Fitness Center will challenge even the fittest with their newly added weight room.

Top it all off in their wonderful whirlpool spa, and sooth away the day amongst warmth and bubbles.

The VIP Complex is a great place to relax the day away when it becomes sunny and warm, swim some laps or just lay the day away in the sun.


Here you will never have to wait to play a game or two of tennis, you can always be assured a court within their six outdoor tennis courts.

Basketball anyone pick up a game or just shoot some hoops at this complex's Basketball Courts, this is also where their annual basketball tournament is held!

Baseball anyone, they've got that and the VIP Complex is where you will find it,
with their regulation-size baseball diamond, they even have their own softball team!

And if you just want a quiet place to relax check out their beautiful level walking paths or sit at any of their comfy benches that surround the VIP Pond! It's also the prefect spot to drop in your line and catch a fish or two!

Or end your day watching your kids enjoy themselves at their great playground!

Boating, fishing, swimming and even the community beach parties is what you will find at the Mill Pond beach in the summer.

Your family will be drawn to their lovely L-shaped outdoor pool, with a separate Kiddie pool right nearby.

Your kids will have fun at their beautiful playground.

As if that's not enough catch a game at either their out door Basketball Courts or Tennis Courts.

Mill Pond Complex also has a beautiful indoor pool and spa for when the weather is just not cooperating, or you've had enough sun for one day!

Nestled amongst tall trees and a gentle sloping manicured lawn, the Mountainside Pool is a special retreat all it's own!

You will enjoy a more secluded and serene spot to swim and float beneath the Pocono Mountain skies.

Think that's all how about some skiing on their very own Ski Hill located at the Top Of The World. Need a lesson or two, you can grab a 50 minute lesson one-on-one with a skilled instructor, no ski school there!

They also have a designated sleigh area for all ages!

This community even has it's own top rated Restaurant "The Top of the World" where you can sit and enjoy a delightful meal offering everything from soup to nuts, or take it out and enjoy it in your own new home!

To summarize everything this community has to offer:

Four Outdoor Pools!
Two Indoor pools!
Two Spas!
Three Indoor Tennis Courts!
Six Outdoor Tennis Courts!
Two Basketballs Courts!
One Regulation Baseball Field!
One Indoor Fitness Center!
One Indoor Racquetball Court!
One Ski Slope!
One Sleighing Hill!
One Top Rated Restaurant "The Top of the World"!

Whatever you are looking for in a four season community, you will find it here at Saw Creek Estates, and I can help you!

Click here to view all current homes for sale in Saw Creek Estates!
Pocono Mountain Lakes Realty ~ 233 SR. 940 ~ Blakeslee Pa 18610
Phone 570-234-0633 x 304

1578 State Route 903 ~Jim Thorpe Pa 18229

Phone 570-267-1565
~ RB 066506
Donna Foley ~ Realtor ~ RS 309160 ~
Cell 570-269-7199 ~ Fax 570-504-7262

donnafoley@poconomountainlakes.com